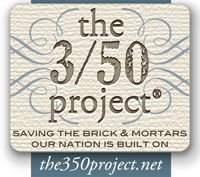 Have yall heard about this? I read about it on some other blogs and thought it was pretty cool.
Since I work for a small business, I think it is really important to shop small business when possible. I know that sometimes buying small business isn't always best for the wallet - I will confess that I did buy my bathroom tile from Home Depot instead of our own shop. Their price was nearly $2 a sqft lower than our COST and my tile rep wouldn't lower our cost?, so I bought big box store.
I thought it would be hard to come up with changes to our buying habits to incorporate small businesses. We don't really buy much "stuff" mostly everything we purchase is grocery type stuff so it is harder not to stay out of the chain stores.

Here are some of the things I came up with:

Now that it is summer, I plan on buying my produce from local produce stands and
The Market at Ag Heritage Park
on campus. We do have a local meat market I need to check out, they usually have pretty good prices.
We are relandscaping our front yard right now. Since Eric has access to a landscape license we will be buying our plants from a local wholesale nursery; so in that case buying local will save major $$. We are also buying our flagstone and driveway from a local garden center if they don't have it at the wholesale place.


Not sure if this counts, but we are getting our kitchen cabinet paint from the local Benjamin Moore store, it is independently owned so maybe that counts.
I buy
a lot
of fabric. I guess that fabric is my "stuff" that I buy. But it is a
Paisley Jane
expense. Lucky for me our local
fabric store
is having a sale Saturday.
I am sure Eric will keep the local co-op in business this summer and fall. He feeds his deer well, but they don't always return the favor

Oh and worst of all, there is a new donut shop in town, we supported it twice last week....

Well that wasn't too hard. What stores could you support and what stores would you miss?